Dietetics & Public Health Nutrition
ONE YEAR POST GRADUATE DIPLOMA IN DIETETICS AND PUBLIC HEALTH NUTRITION
This course of study is designed to meet the needs of the students today, who expect a more professional and focused academic discipline in dietetics. Central department of Home Science offers Dietetic and Public Health Nutrition (DPHN) degree accredited by Dean Office, Faculty of Humanities and Social Sciences, Tribhuvan University. This curriculum has been designed to produce efficient professionals particularly in Dietetics especially in Clinical and Public Health Nutrition.
Now a day most of the renowned hospitals as well as clinic demand at least of recognized dietitian. The sector for dieticians and nutritionists is expanding fast, opening up many exciting job opportunities. These careers are directed towards helping people improve their health and as a result lead a productive life.
Course Objectives of One Year PGD in Dietetics :
After completion of the course student should be able to:
Understand the principles of nutrition and dietetics
Demonstrate strong communication skills and counseling
Educate and guide clients about nutrition and dietetics
Assess and diagnose issues related to nutrition
Gather and evaluate information on client's health
Develop and modify diets and nutrition care programs for clients
Understand National policies and programs in public health and nutrition
Eligibility:
To do Post Graduate Diploma in Dietetics and Public Health Nutrition (DPHN), one should have completed bachelor's degree in B.Sc., Food Technology, and Public Health Nutrition and/or has completed 100 marks (3 credits) in Food and Nutrition from any university recognized by Tribhuvan University. The selection of the students for admission will be based on their merit in the entrance examination. Entrance examination is mandatory for enrollment.
Prospects:
This course provides with lots of prospects:
After successfully completion of this course, students can work independently in a variety of employment settings, including health care, food and beverage industry, community, public health, foodservice and research.
DIETETICS AND PUBLIC HEALTH NUTRITION ( First Semester )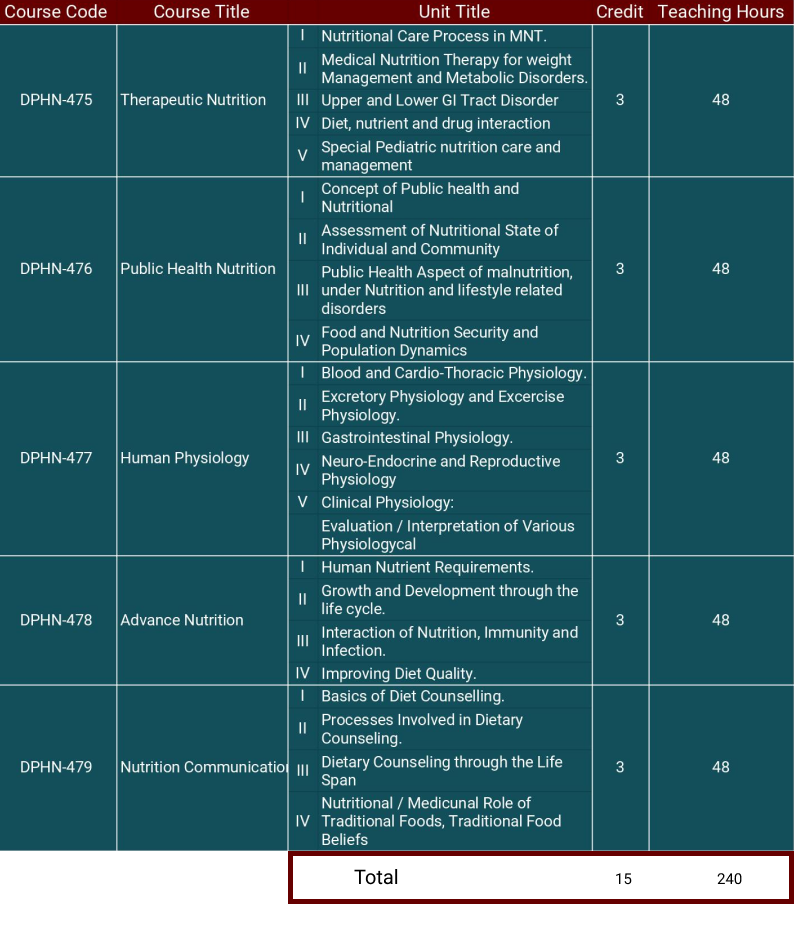 DIETETICS AND PUBLIC HEALTH NUTRITION ( Second Semester )